When you view the availability calendar on your website or WebReserv, you might see that the booking schedules are grayed out as show below in the example below.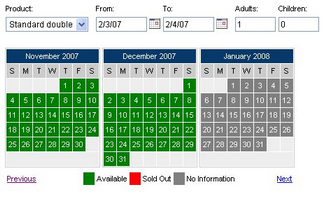 The gray dates happen when rates have not been set up for the specified period of time. In the example shown about, rates have only been defined to December 31st and the dates from January 1st are therefore grayed out.
It is not possible to make a reservation for dates that are grayed out, so always put in rates as far out as you have them.
Note that there is a different between the booking calendar (as shown above) and the availability calendar:
The booking calendar does not differentiate between booked or out-of-inventory. If the unit is not available it's red. If it is available it's green. If there are no rates it's gray.
The availability calendar differentiates between booking or out-of-inventory, but does not show if rates exist or not. If a unit is available it's green. If it's out of inventory it's gray.