Your online booking system
Welcome to WebReserv.com, your online booking system. On WebReserv.com you can search for local businesses and products, view pricing and availability details and make reservations. It's like Yellow Pages with online booking.
Featured Listings
Bed & Breakfast Inns
Vacation Rentals
Log Cabins / Treehouses
Carbon Countrys Shady Rest Bed and Breakfast
Carbonado, Washington
Namaste - Summer Specials
Santa Rosa Beach, Florida
Lazy Trout Motel & Cabin Rentals
Greer, Arizona
Carbon Countrys Shady Rest Bed and Breakfast/Mount Rainier National Park
Beautiful vacation rental in Santa Rosa Beach, Florida. Close to the beach!
Motel located in the small community of Greer Arizona located in the White Mountains of Arizona.
The Harney House Inn
Indianapolis, Indiana
Ivywild Lodge
Colorado Springs, Colorado
Bullfrog Mountain Cabin Rentals
Butler, Ohio
Located on the doorsteps of downtown Indianapolis, in Historic Lockerbie Square, The Harney House In
Colorado Springs fully furnished, extended stay Guest Rooms
Two cozy clean cabins in the woods in the heart of the Ohio valley near Mohican State Park, Malabar
Howard House Lodge B&B
Boothbay Harbor, Maine
Lake Anna Glass House
Spotsylvania, Virginia
Cabins on Indian Creek
Carbondale, Illinois
Howard House Lodge B&B, at the entrance to Boothbay Harbor, just a mile away from the hustle and bus
The Glass House on Lake Anna is a 5 Bedroom 4 Bathroom vacation rental home for rent on Lake Anna in
CABINS ON INDIAN CREEK combine rustic style with modern amenities including full kitchens, open layo
Bay Village Inn
Boston, Massachusetts
Vista Ridge Sedona
Sedona, Arizona
Timber Ridge Outpost & Cabins
Karbers Ridge, Illinois
A relaxing stay in charming surroundings with excellent service and a convenient central location –
Sedona, Arizona luxury vacation condos located above Hillside Shopping & Galleries, close proximity
Rental Treehouses and Log Cabins nestled in the beautiful Shawnee Hills of Southern Illinois.
RV Rentals
Limousine Services
Bike Rentals
RentForFun National LLC
Nampa, Idaho
www.AIRPORTSHUTTLEDTW.COM
DEARBORN, Michigan
West Maui Cycles
Lahaina, Hawaii
Rent For Fun.com specializes in renting RV's Boats, and ATV's located all over the United States
AIRPORT SHUTTLE TO DOWNTOWN DETROIT
Detroit Airport Shuttle to Cobo Center
Airport Shuttle DTW
West Maui Cycles rental fleet is one of the largest in the Hawaiian Islands with over 100 rental bik
Alaska Grizzly RV Rentals, LLC
Anchorage, Alaska
Costa Chauffeured Services
San Francisco, California
Krank Cycles
Makawao, Hawaii
Alaska Grizzzly RV Rentals, LLC is family owned and operated.
Costa Chauffeured Services specializes in all of your Chauffeur needs with a more personal approach
We are a full service bicycle shop that rents mountain bikes, road bicycles for all of Maui cycling
Adventure KT
El Cajon, California
Perry's Limousine Service
Detroit Lakes, Minnesota
Peak Sports
Corvallis, Oregon
Adventure KT, can help create your dream RV vacation or event experience.
Limousine Services
Peak Sports offers mountain, road, and town bike rentals from Specialized and Trek.
Going Places RV Rentals, Inc.
Phoenix, Arizona
Geneva Bay Limousine
Lake Geneva, Wisconsin
Irwin Cycles
Las Vegas, Nevada
A full service RV rental company serving the Phoenix metro area and the entire southwest.
Good Service
Las Vegas' premier custom bike shop offers sales, service, demos and rentals.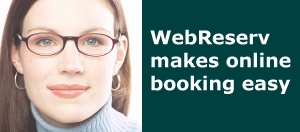 Get Listed!
Get your business listed on WebReserv.com, the best online booking system, and you can start accepting online bookings right away without having to buy new software or hardware.
Everything you need can be handled on WebReserv.com, from setting up your products and rates to managing the bookings - and best of all, you can start using it right away.
Advertisement