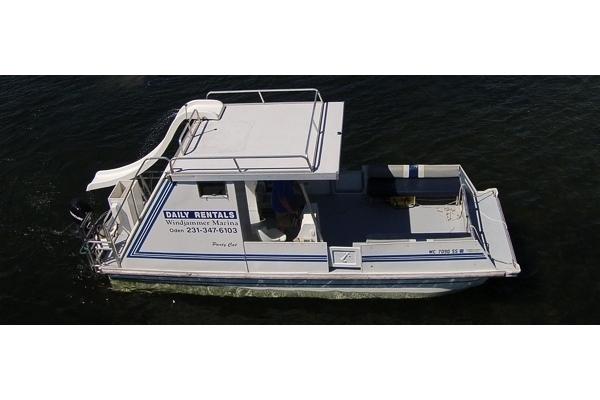 About Windjammer Marina
26' Catameran Party Cat 60 hp., 10 person capacity, waterslide, and an enclosed head.

Take a day or a week and enjoy Crooked and Pickerel Lake in comfort. The party Cat has a sun roof on top with a slide to the water.

***The Party Cat is available for Crooked and Pickerel Lake only.***

Rates do not include gas. No refund for early return of boat. Boat must be returned by 4:30 P.M. pre-season (May-June 15), 5:30 P.M. in-season (June 16-September 9) and 4:30 P.M. post season (September 10-October). If you are late you will be charged $45.00 per half hour or fraction thereof. A $20.00 cleanup fee is charged for boats returned excessively dirty. A 6% use tax will apply to all rentals. There is a $20.00 fee per pet on board.

CANCELLATION POLICY: Cancellations received prior to scheduled departure date are subject to a forfeiture of total deposit. Due to the very short boating season, the Windjammer Marina has a no refund policy in effect. If hazardous weather conditions prevail, a change of date for the rental would be preferred by the marina. If a new date is not acceptable, then a return of your deposit would be granted.

~ ALL PRICES ARE SUBJECT TO CHANGE WITHOUT NOTICE ~

If you need help, please contact us!