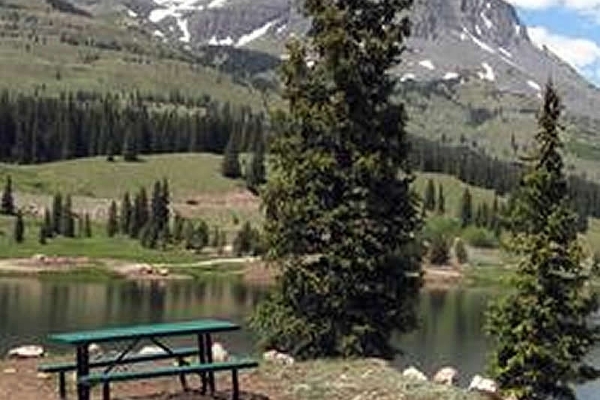 About Molas Lake Park and Campground
This site (Site# URV1) is a smaller version of our Lake View RV sites. This one site sits on an isolated bluff above Molas Lake and can accommodate a pop‐up camper or small RV less than 20 feet. URV1 is also an excellent tent camping site, located on a hill above Molas Lake with great views looking east into the San Juan Mountains and a large ponderosa pine tree. The start of the lake loop and Colorado Trail hiking trails are located directly behind URV1. This site is freshly graveled with a short dirt road leading to it. It has gravel parking with a tent pad, as well as a fire pit and picnic table. A REASONABLY QUIET generator is allowed in this site from 8am‐8pm. There is only one site of this type, so it fills up fast.

This area is also shared with the three other Lake View RV Sites that have no size limitation; this particular site is on the end. Before 2019, this site was called "SRV1".

* Price is $45/night, plus 10.4% tax. During the July 4th and Labor Day Holiday periods, prices are increased by 50% to $68/night.

* REASONABLY QUIET generators are allowed in these sites from 8am-8pm.

* Check-In: 1:00 PM. Check-Out: 11:00 AM. For late arrival arrangements, if you plan to arrive after 7:00PM, your site number and last name will be listed and marked on a map located on the front door of the office. Just come back in the morning to grab your paperwork! All campsites must be vacated by 11:00 AM on Check-Out day.

* At least one adult (person at least 18 years old) must be in your party and present at check-in. Maximum number of guests per campsite is 8 (if you have more, reserve more than one site). Maximum number of tents per campsite is 2 (if you have more, reserve more than one site). Maximum number of vehicles per campsite is 2 (if you have more, reserve more than one site). For groups of 15 or more, please Email Us (info@molaslake.com) for group site information.

* You must read our UPDATED RESERVATION & CANCELLATION POLICIES on the www.MolasLake.com website before making a reservation. By making a reservation, you agree to all Molas Lake Campground policies. A printable pdf of our Policies can be downloaded and printed from the Campsites page or the Reservations page (www.molaslake.com/reservations.html).