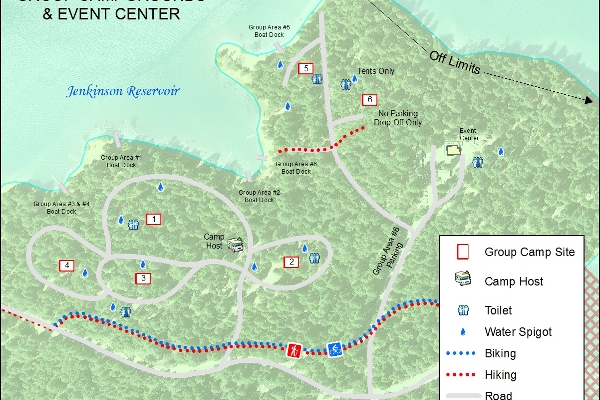 About SLY PARK RECREATION AREA
During the summer months Tours of the Event Center and Group areas are only offered on Monday nights at 6:00 pm. Tours begin at the Group Area 6 parking lot. Please call for availability.

Enjoy an outdoor wooded setting with lake views for your event and utilize the full indoor kitchen and outdoor barbeque area for your reception or party with the reassurance of an indoor space as a backup. Enjoy fresh air, a natural setting and an atmosphere conducive to creative thinking for your meetings, training and retreats.

Camping is allowed in the picnic area. Rental hours: 2:00pm check-in with a noon check-out. Fees cover up to 50 persons, extra people are $4 each per day. Maximum number of people is 75. The parking lot will accomodate 25 cars. Reservation will be confirmed upon receipt of organization name, if any, contact name, phone number and event information.

WHY NO DOGS IN THE WATER - Jenkinson Lake is a drinking water reservoir and falls under the State of California legislative exemption that allows us to have people and boats in the lake. This same legislation requires no domestic animals in the water, as well as no diapers.