The booking calendar is a plug-in component from WebReserv that allows you to take reservations/bookings directly from your existing website or websites. The booking calendar has all the functionality needed for a customer to complete the booking process online:
| | |
| --- | --- |
| • | Credit card and PayPal payment processing |
Note: If you don't have a WebReserv account already, please go to http://www.webreserv.com/online-booking-system.do to create your free account.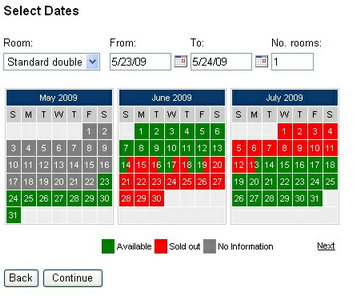 Tip: The booking calendar is most often used together with the business listing on the WebReserv portal. Having your business listed multiple places greatly enhances visibility to the marketplace and helps you to get more customers.
Tip: The booking calendar can also be used for businesses that do not need a business listing on WebReserv portal. For more information about this usage, please contact your WebReserv Support team.
The following topics will help you to get the booking calendar added to your website: