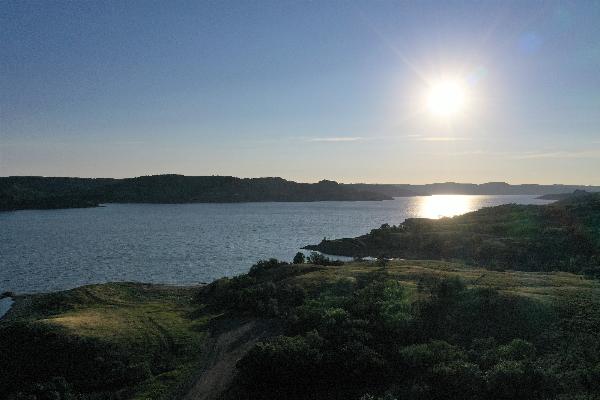 About Little Mo Campground
***Please note*** Dimensions listed on each site is that of the RV pad only. RV sites offer picnic space and space for vehicle parking.

The Little Mo Campground is a quiet oasis that is located in the Little Missouri Arm Recreation Area on Lake Sakakawea just 15 miles North of Dunn Center and is a great place for year-round activities. With a fishing license, Walleye, Northern Pike, Small Bass, Catfish, and White Bass can be caught. Several mowed walking trails exist. Dunn County Park Board opens the Little Mo Campground in May (weather permitting) and offers its facilities until late September. The campground will be operated and maintained from Memorial Day through Labor Day. Shoulder Season begins September 13, through October 10th, and during Shoulder Season there is no water or power available.

Little Mo campground offers paved road access to 30 campsites, with 30/50 power and non-potable water, 4 primitive tent sites a fish cleaning station, docks, a picnic area, picnic tables, fire rings, and trash receptacles. If you wish to have a campfire in the firepit, you MUST bring in your own firewood. Wood cannot be gathered on-site.

Copy and paste the following link for a better understanding of the 2022 Dunn County Burn Ban.
https://www.ndresponse.gov/burn-ban-restrictions-fire-danger-maps#burnbanmap
According to the Dunn County Burn Ban, when the fire danger is Low or Moderate, a recreational campfire can be burned in the fire rings.

UNDER NO CIRCUMSTANCES WILL CAMPFIRES BE ALLOWED UNDER A COUNTY-WIDE BURN BAN, when the fire danger is High, Very High, or Extreme, and/or there is a Red Flag Warning.

Please see the information board at the camp host office, for burn ban updates. If you still have questions about the conditions or local fire danger contact the Dunn County Park Board.

Also note, Lake levels fluctuate, therefore you may have limited access to Lake Sakakawea.

2023 RATES:
Weekends - Friday, Saturday and Sunday $20 per day
Weekdays - Monday through Thursday $15 per day
Weekly Rate $120 per week


Cancellation Policy: A fee of $5.00 per reservation, for canceling, and if cancellation is less than 2 days 50% plus $5.00 will be incurred.