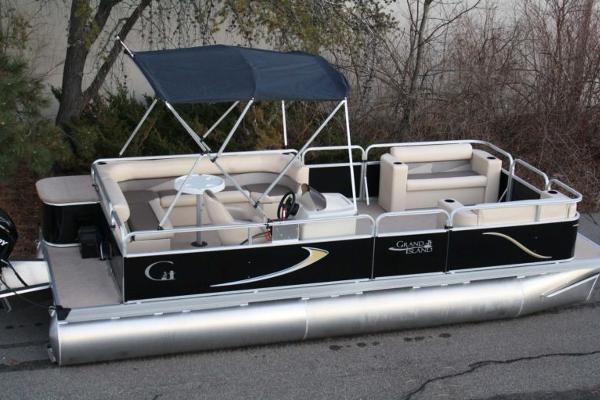 About Jayhawk Marina, Inc.
Designed for comfort, you and 9 of your guests (any age) can enjoy an afternoon on Hillsdale Lake aboard our luxurious 2021 Grand Island 20 foot pontoon boat. Equipped with a stereo radio with i-Pod hook-up for your entertainment, bring your lunch, snacks and refreshments to enjoy during your cruise.

Anchors are not provided. No tubing or towing allowed on any rental watercraft.

Boat operators must be present to sign rental agreement and to receive instructions at time of rental.

Rental times are as follows:

8-Hour Rentals Available Daily

Monday - Sunday
9:00 AM - 5:00 PM
or
10:00 AM - 6:00 PM

4-Hour Rentals Only Available:
Tuesday - Thursday
9:00 AM - 1:00 PM or 1:00 PM - 5:00 PM

Must be 21 years of age or older to rent.

A $300.00 security deposit is required at the time of check-out and refunded after successful check-in inspection upon return. If boat damage is incurred, your security deposit will be used as immediate payment toward the damages. Should the damage incurred during the customer's rental period exceed the amount of the security deposit, the customer is responsible for immediate full payment for the damages claimed by Jayhawk Marina, Inc.