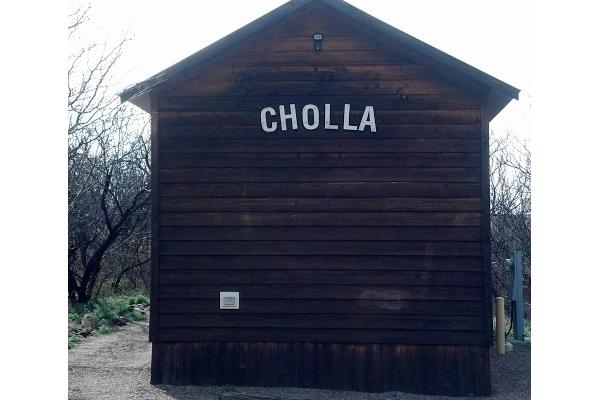 About Faywood Hot Springs Operations, LLC
Take a hike around Faywood and you will see lovely cholla cactus dot the high desert.

Faywood Hot Springs does reserve the right to switch cabin reservations of equal value to accommodate the physically disabled.

This cabin requires a 2-night minimum stay except during the summer period of June 20 - September 21.


This is a non-smoking cabin. A cleaning fee of up to $250.00 may be assessed if evidence of smoking is found.

Check-in between 4:00 PM and 8:00 PM however, guests may arrive after 12:00 PM and enjoy the resort before picking up keys at 4:00 PM. Front Desk closes at 8:00 PM; check-out at 11:00 AM. All guests, on their first day of their stay, must check in with the front desk before they close at 8:00PM. Late check in for seasoned guests MAY be allowed if pre-coordinated with the front desk staff.

We do require a $10.00 non-refundable booking fee for cabins. You will be asked for your credit card info at the time of reservation.

Amenities: One-bedroom with full bath, sleeping loft and porch (some screened-in). Queen-sized bed, linens, towels, kitchenette with table & chairs, microwave, small refrigerator, coffeemaker, coffee and teas, sink, dishes, utensils, heat and air, bath soaps, private yard, picnic table, outdoor charcoal BBQ grill. Includes use of the public soaking pools and facilities until 11:00 AM the following morning, plus one hour private pool time per overnight stay. Sorry, no smoking, candles or pets inside the cabins. Linens are provided for lofted areas at $17.50 per additional person over 2 in the cabins. Linens plus bed service are provided for lofted areas at $21.50 per additional person over 2 in the cabins.

We do enforce our policies. Please read our reservation/cancellation policies and property rules prior to booking your reservation.

A note on credit cards: Our online reservation system DOES require a credit card to hold your space however we DO NOT charge your card prior to your arrival except for the $10.00 non-refundable booking fee.

Buy 6 nights, get the 7th night free!

Other Amenities:
Use of Community Fire Pit
Use of Overnight Clothing Optional Bath House
Use of Public Clothing Optional and Clothing Required Hot Mineral Spring Pools
BBQ Grill
1 Hour Private Pool Reservation

"ATTENTION GUESTS MAKING MULTIPLE SITE RESERVATIONS: When making on-line reservations for multiple sites (Camp, RV or Cabins) in the same reservation document, the system MAY NOT reflect the accurate prices for extra people or pets. Please ensure that you list in the notes how many people will be in each site (adults and children (under 12 YO) and how many pets)). Once the Front Desk staff receives your pending reservation, they will verify that all charges have been captured correctly and confirm your reservation. Please ensure that you review your CONFIRMED reservation that will come to you in an email to make sure all your needs were correctly posted. Please ensure that you enter a valid email address. Reservations are not final until you receive a return email showing the reservation has moved from Pending to Confirmed. Thanks for your understanding.