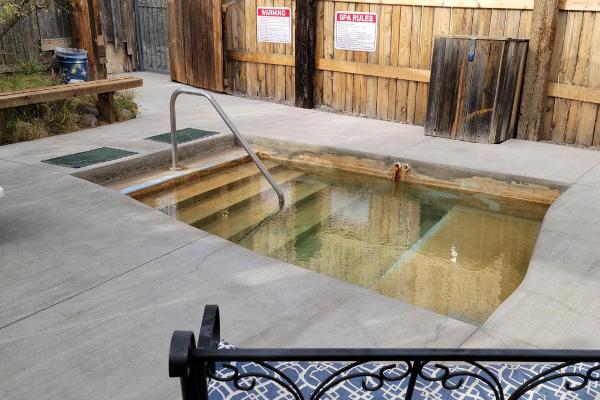 About Faywood Hot Springs Operations, LLC
The Big Dipper is a rectangular, walk-in concrete pool that may hold up to 10 people. It is normally kept at a temperature of 102 degrees F.

Private pools rent on the hour in increments of one hour. Guest may rent for one or more hours at a time. The following slots are reserved for overnight guests only. Off site guests may only rent private pools while the Front Desk is open.

Overnight Faywood guests only:
Everyday of the week except for Wednesdays when the pools are being cleaned, the pool is not available until 1:00 PM.
10:00 AM to 11:00 AM
08:00 PM to 09:00 PM
09:00 PM to 10:00 PM


Please ensure you have a CONFIRMED reservation before heading to Faywood. Please call for the Front Gate code the day of your appointment.

"ATTENTION GUESTS MAKING MULTIPLE SITE RESERVATIONS: When making on-line reservations for multiple sites (Camp, RV or Cabins) in the same reservation document, the system MAY NOT reflect the accurate prices for extra people or pets. Please ensure that you list in the notes how many people will be in each site (adults and children (under 12 YO) and how many pets)). Once the Front Desk staff receives your pending reservation, they will verify that all charges have been captured correctly and confirm your reservation. Please ensure that you review your CONFIRMED reservation that will come to you in an email to make sure all your needs were correctly posted. Please ensure that you enter a valid email address. Reservations are not final until you receive a return email showing the reservation has moved from Pending to Confirmed. Thanks for your understanding.