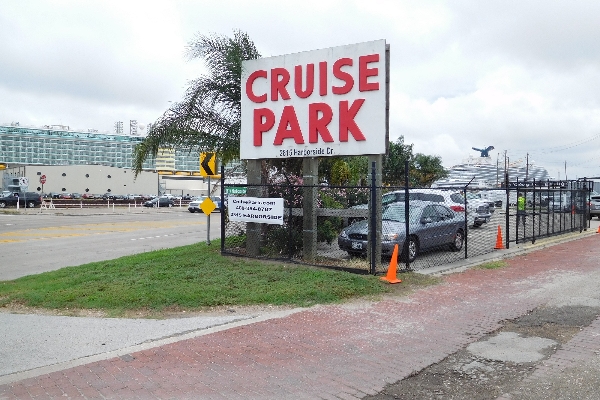 About Cruise Park
CRUISE PARK 2815 HARBORSIDE DR. GALVESTON, TX 409-354-8787
Cruise Park opened in 2011. Located on the main thoroughfare (Harborside Drive) between 28th and 29th across the street from the port.

Parking accommodation is for Sunday to Sunday cruises (7 nights) for RCCL Liberty of the Seas and (7 nights) Carnival Freedom (Sunday to Sunday cruises only) Must arrive on a Sunday to park and depart on a Sunday.

Carnival Freedom - Journeys Cruise
October 27 - November 10, 2019
Parking Available

*****************************************************************************************************
INFORMATION FOR FIRST TIME CRUISERS:

Galveston's Cruise Ship Terminals operate almost in the same manner as many Airport Terminals. Passengers are screened and baggage x-rayed. Cruise lines allow passenger and larger size baggage drop off at the terminal. Just drive to the terminal where your ship is docked. The cruise lines have porters for your convenience, if needed.. This can be done from the comfort of your vehicle before parking. Over size baggage must be checked at baggage. Only smaller sized items will fit thru x-ray machine at passenger screening. Also, your passengers may go to security checkin while you park. Sometimes, that may be easier and more convenient for everyone. It won't take long to rejoin your party. The cruise terminal is a relatively small facility and easily navigated.

Cruise Parking in Galveston is similar to many airports. Galveston Cruise Terminals do not have passenger parking spaces adjacent to the terminals. You have parking facilities within walking distance to the terminals and there are facilities offering shuttle transportation.
******************************************************************************************************

Cruise Park does not shuttle to or from the cruise terminals because the lot is close enough to walk to the terminal.

Cruise Park's location :
*** Walking distance to the cruise terminal crossing at 25th Harborside Drive. is1400 feet on
New Strand. That distance from our lot is about 5-7 minutes walk, average pace.

We suggest to read the reviews, look at the photos, check our map for our location, decide if dropping off passengers and baggage at the terminal is a workable plan, and book to reserve your 7 nights parking for $59.00. Thanks for considering Cruise Park!


------------ Booking Calendar is further down this page past photos. -------------



**************PRICES***************** $59.00 Weekly cruise parking

Check the Booking Calendar below for availability over the next 90 days. Reservations may be made no more than 90 days in advance. For reservations further out than 90 days, please wait and try later.

Sunday Hours at the Lot: OPEN 7:00 A.M. Close 2:00 P.M.



BOOKING CALENDAR EXPLANATION

"If a Sunday is half red and half green (in that order) on the booking calendar, you can reserve parking for the week that is green. If the Sunday is totally red, parking is not available for that date."