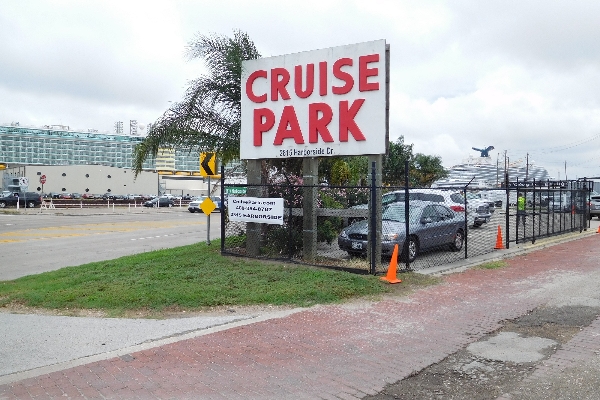 About Cruise Park


RESERVATION BOOKING CALENDAR IS LOCATED AT THE BOTTOM OF THIS PAGE.

$49.00/week

Cruise Park is a small business owner/operator parking lot in operation since 2011.

Cruise Park is exclusively for Sunday to Sunday Galveston cruise parking.

Sunday Hours: OPEN 7:00 A.M. Close 2:00 P.M.

Walking distance proximity - the parking lot is located approximately a 5-7 minute casual walk from the cruise terminal 25th Street entrance. There is a traffic signal at 25th and Harborside between terminals 1 and 2.

**No shuttle is provided to or from the cruise terminal. . Walk right to your car after disembarking.

Quick and simple self parking lot. Attendants on site to direct to parking spaces. (You retain your keys) Fenced/gated, lighted, locked for duration of cruise with no in/out traffic.
Easy to locate on the main thoroughfare (Harborside Drive). Opposite the cruise terminals and on the same street.

Suggestion for most convenience is to drop off passengers and baggage at the terminal building before parking.
The cruise lines allow for your baggage and passenger drop off at the terminal. Drive through the terminal to drop off baggage and passengers curbside. There are cruise line porters there to accept baggage and assist with baggage checkin. While baggage is being checked in, the driver takes the car to the parking lot and returns to the terminal to join his/her party.at security/check-in.

Parking available only for::
Royal Caribbean Liberty of the Seas (Terminal 2) and Carnival Breeze (Terminal 1)

Cruise Park reserves space only for SUNDAY to SUNDAY cruises out of Galveston. No availability for parking for cruises departing Monday, Tuesday, Wednesday, Thursday, Friday, or Saturday. Gates are locked from Sunday to Sunday with no in/out between those days.

If you have questions, please call prior to completing a reservation for a parking space.

CRUISE PARK 2815 HARBORSIDE DR. GALVESTON, TX 409-354-8787

BOOKING CALENDAR EXPLANATION

"If a Sunday is half red and half green (in that order) on the booking calendar, you can reserve parking for the week that is green. If the Sunday is totally red, parking is not available for that date.

Reservations may be made no more than 120 days in advance. For reservations further out than 120 days, please wait and try later Thanks for your consideration.