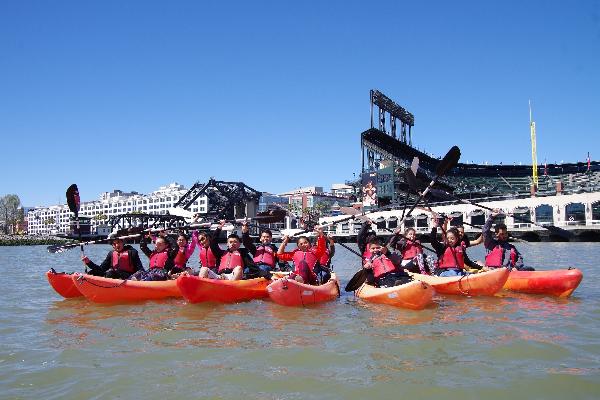 About City Kayak
If you have over 6 people we may be able to arrange a rental event, sometimes even on closed days. We provide all the equipment, instructions and recommend best route. You provide fun time on the water.

This rental package does NOT include a guide on the water. Everyone should be comfortable with kayaking or stand up paddle boarding. Sit-on-top kayaks(safety oriented and easy to operate) will be provided.

For a group of beginners, paddle to South Beach Harbor, McCovey Cove, Lefty O'doul historic draw bridge, houseboats in Mission Creek. (Brannan Wharf Park is an option when condition allows. Paddling in San Francisco bay is restricted when strong condition is expected.)

Tell us your preference; single or double, length and width. (SUP boards are not recommended for beginners.) If not sure, leave it blank. We will get you fitted for the best experience. Accessories are included with the rental- paddle, life jacket, dry bag, and wetsuit if needed.

Usually mornings to early afternoon before 2pm are calmer and suitable for beginners or families with children. Windy afternoon or strong tides may limit paddling to beginner area only(McCovey Cove and Mission Creek).

When you check in, you will go through a 5-15 minute of boating orientation and paddle instructions. We will pick boats, show you where to go, and what to see.

Actual excursion time varies because of preparation and on the water practice. You should allocated additional time(15 minutes) before and after for parking, restroom, changing, buying last minute snacks, etc.

After you complete the reservation, we allocate staffing and resources. A confirmation email will follow within 24 hours unless we need more details from you. 10% gratuity will be added for any private group event.