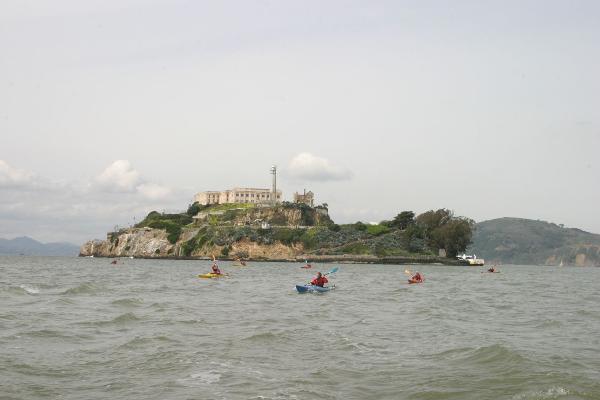 About City Kayak
Enjoy paddling around The Alcatraz island and San Francisco bay.

During the trip you will see other famous landmarks and grand view of the bay: Golden Gate Bridge, Angel Island, historic ships at the Aquatic Park, etc.

This area could be windy and choppy, even in the morning. The route may change if the condition is stronger than forecasted.

REQUIRED
You should be already familiar with using a seakayak and preferably seakayak reentry methods. Open top or sit-on-top experience does NOT qualify.
You should be able to paddle an average speed of 4 knots for 1.5 hours at a minimum.
This trip is not recommended if you are sensitive to motion sickness.
Recommended weight range is between 90lbs to 200lbs per person.

We use performance seatouring kayaks for this trip. Double kayaks will be used for optimal speed and stability. If you have not paddled a seakayak over a year, you should take a short trip using seatouring kayak. There is no time for training on the water.

We will meet at the beach in Aquatic Park, west end of Jefferson Street.

BRING; sunblock, sunglasses, hat, change of clothes in case you get wet. The weather in San Francisco can change from cold and foggy morning, very warm noon, and windy afternoon. Layering for the weather and a water resistant jacket is recommended.

PROVIDED; life jacket, paddle, dry bag, paddle jacket, sprayskirt.

Online booking closes early, sometimes days ahead.

We can NOT accept walk-ins for this trip. Intermediate or more advanced trips require a reservation ahead of time.