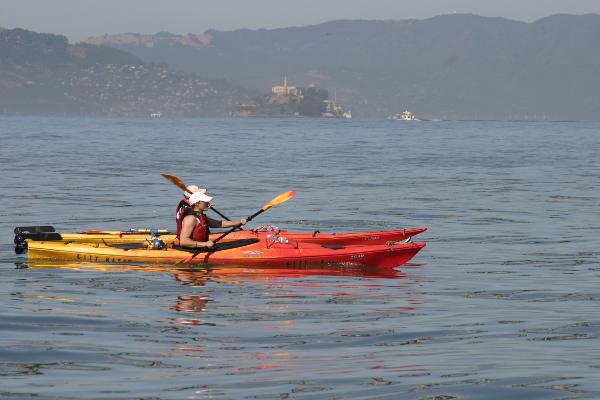 About City Kayak
This class is Part 1 of essential seakayaking skills valuable for San Francisco bay.

Part 2 Reentry 301 must be taken to be able to rent a touring kayak at most outfitters.

This class will go over many aspect of paddling a recreational or sea touring kayak. Single kayaks are usually offered, but doubles are available too. We learn and practice kayaking skills, seamanship, and explore common misconceptions.

REQUIREMENTS
Previous kayaking experience required. You should be comfortable with basic operation of a kayak- forward, turns, reverse.

TOPICS COVERED:
Equipments- kayak selection, rudder vs. skeg, spray skirt fitting, storage ideas, paddle angle and features, safety gear, wetsuit or drysuit
Maneuvers- entry/exit, posture, forward, reverse, sweep, bracing, draw, edging, sculling
Paddle Strokes- paddling styles, torso rotation, proper grip, blade placement and exit
Marine Seamanship- marine weather, tidal currents, marine knots, right of way, launch access, rules, regulations

The weather in San Francisco can change from cold, warm and windy. T-shirt, board shorts, thin fleece shirt, wind jacket will keep you comfortable. Bring a sunblock, sunglasses, hat, change of clothes in case you get wet.

Online booking closes early, sometimes days ahead.

We can NOT accept walk-ins for this event.