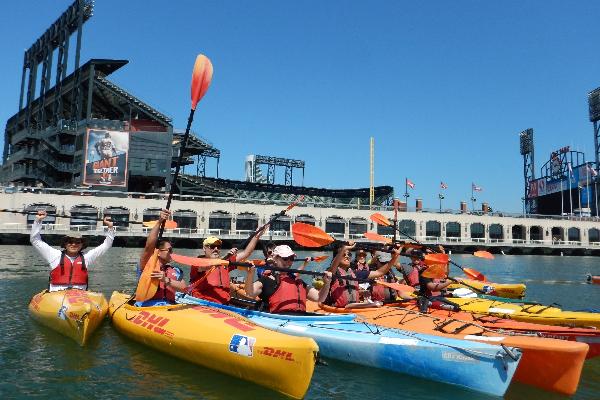 About City Kayak
We paddle on quiet waters of the San Francisco Bay. The waterfront near South Beach Harbor and Mission Creek is a hidden gem in San Francisco. You will paddle to McCovey Cove by AT&T Ball Park, under historic Lefty O'Doul draw bridge, and Mission Creek Houseboats.

Paddle Length : The trip starts with gear up, briefing, and instructions. You will explore on the water for 1.5 hours. Total event time is 2 hours.

This kayaking session is suitable for anyone, including the first time paddlers and families. No paddling experience is required, and beginners are welcome. Recommended weight range is 70lbs to 240lbs. Youth over age 14 may paddle solo and under should double up on a tandem kayak.

We will go through a briefing about the area, show you how to maneuver a kayak. Our guides will be on the water to lead the way and give you helpful tips.

You get an easy to use and extra stable touring kayak. Choose single kayak or double kayak. Single kayaks are easier to use and more fun. But, double kayaks are available if you want more speed or one person needs extra support.

Online booking closes early, sometimes days ahead. Walk-in may be possible but does cost more. Most intermediate or advanced trips require a reservation ahead of time.