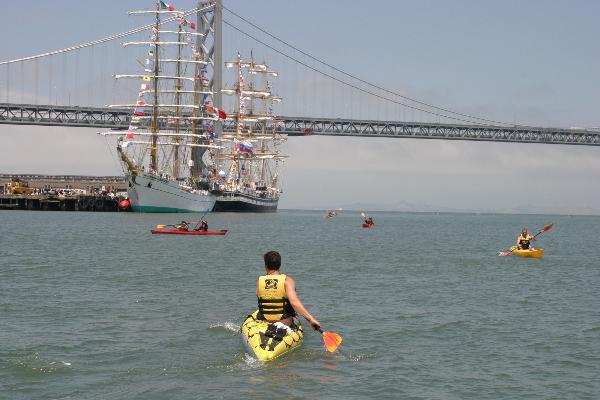 About City Kayak
If you have prior kayaking experience, you may join this kayak trip and enjoy spectacular views while paddling the world-class San Francisco waterfront on seatouring kayaks.

Walk-in price is $87 for adults and $78 for youth.

We paddle by both the downtown San Francisco cityscape and AT&T Ball Park.

Paddle Length : You will explore on the water for 2 hours. Total event time is 3 hours including gear up, briefing, and instructions.

Our attentive guides will ensure that you are safe, comfortable, and explore the most scenic route.

When possible, the guides will take photos and post them online. You can visit the photo gallery and download the photos for free.

Typically we visit: Bay Bridge, Cupid's Span, McCovey Cove (AT&T Park), Lefty O'Doul Drawbridge, and Mission Creek houseboats. You will see: Downtown San Francisco, The Ferry Building, and Treasure Island. You might also see harbor seals, sea lions, migrating birds, and sailboats out on The Bay.

PREREQUISITE REQUIREMENT:
This is a leisurely paced kayak trip for active adults. Prior kayaking experience within a few years is required. Ability to do 5 push-ups is required (It is a two hour activity). Recommended weight range is between 90 lbs and 220 lbs.

If you have fear of water, vision or hearing impairment, are pregnant or susceptible to motion sickness, choose an easier trip like South Beach Kayak Trip.

We provide all the paddling gear. This trip uses performance seatouring kayaks. Such kayaks are superior to sit-on-top (rental) kayaks in several ways; comfortable seats, fast and dry. This trip is the best way to experience kayaking in San Francisco bay, especially when you have limited time.

Beginners and youth should paddle on a double kayak for more speed. Advanced or strong paddlers may qualify for single kayaks.

Online booking closes early, sometimes days ahead. Walk-in prices are higher, even if seats are available. Most intermediate or advanced trips require a reservation ahead of time.

* Note: During the Winter Holiday Season, we will replace Downtown Kayak Trip with Christmas Card Trip.