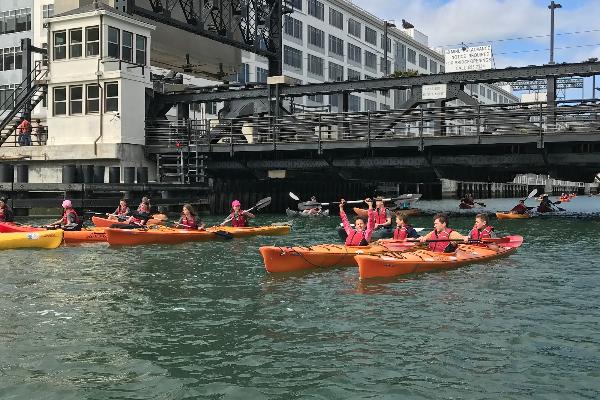 About City Kayak
If you have over 6 people, we can host a private kayaking event for your group. Please ask if you need an event during closed days or hours.

We provide expert guides on the water. Maximum customer to guide ratio is 10 to 1. When possible, your guide may take photos which are downloadable free online.

For beginners your guide will take you to South Beach Harbor, McCovey Cove, Lefty O'doul Draw Bridge, Houseboats in Mission Creek, and Brannan Wharf Park. A group with stronger paddling skills and health may be taken to main part of the bay as well(weather permitting).

We provide touring kayaks which are more performance oriented and often more pleasant, compared to sit-on-top kayaks typically used for do-it-yourself rentals. While making the reservation feel free to tell us your preference; single or double. SUP boards are available but not recommended for beginners. If not sure, leave it blank. We will get you fitted for the best experience. All accessories are included- paddle, life jacket, dry bag.

Usually mornings to early afternoon are calmer and provide the best weather. For beginners or families with children choose between 10:30am to 1pm start. Windy afternoon or strong tides will limit paddling to certain areas. Your guide can help you avoid difficult places and make it easier to navigate the course.

When you check in, you will go through a 15-30 minutes of orientation, instructions, practice. Actual excursion time varies between one to 1.5 hours for a two hour event. You should allocate additional time(15 minutes) before for parking, restroom, changing, buying last minute snacks(especially over meal time).

After you complete the reservation, we allocate staffing and resources. A confirmation email will follow shortly. We may contact you if we need additional information or have suggestions for your experience.10% gratuity will be added for any private group event.