Your online booking system
Welcome to WebReserv.com, your online booking system. On WebReserv.com you can search for local businesses and products, view pricing and availability details and make reservations. It's like Yellow Pages with online booking.
Featured Listings
Hotels
Vacation Rentals
Bed & Breakfast Inns
Ivywild Lodge
Colorado Springs, Colorado
The Paniolo Ranch
Tucson, Arizona
Mount Nebo Cottage
Rocheport, Missouri
Colorado Springs fully furnished, extended stay Guest Rooms
The Paniolo Ranch - Tucson, Arizona - Vacation Room Rentals - Events & Equestrian Facilities.
Mount Nebo Cottage is the perfect haven for replenishment and rejuvenation.
Keller Hotels at 5600 Wilshire Blvd
Los Angeles, California
Santa Fe Vacation Rentals
Santa Fe, New Mexico
Mistress Benay's Bed & Breakfast Inn
Pueblo, Colorado
The Wilshire Hauser Hotel located at 5600 Wilshire Blvd is surrounded by the heart and soul of the c
Santa Fe Vacation Rentals are located within the historic Plaza and Canyon Road Arts District of San
Unique Inn operated by Mistress Benay, a Dominatrix, and Author of "At Her Beck and Call".
Keller Hotels at Palazzo East
Los Angeles, California
Palm Tree Paradise
Panama City Beach, Florida
Touchstone Inn
Taos, New Mexico
The long-term comfort of a furnished residence with the style and service of an intimate hotel when
Panama City Beach,on the beach.
USA Today : Touchstone Inn is "THE place to stay in Taos."
La Plaza Inn
Walsenburg , Colorado
McGinley Vacation Cabins
Nashville, Indiana
The Harney House Inn
Indianapolis, Indiana
La Plaza Inn is an elegantly restored historic hotel serving the community of Walsenburg for over 10
McGinley Vacation Cabins are located in Brown County, voted one of the top destinations for visitors
Located on the doorsteps of downtown Indianapolis, in Historic Lockerbie Square, The Harney House In
RV Rentals
Bike Rentals
Limousine Services
Tango RV Rentals
Salinas (Monterey county), California
Hutch's Bicycles - Eastside
Bend, Oregon
AirportCarsite.com
DEARBORN, Michigan
RV FOR RENT 2013 CLASS A IN SALINAS (MONTEREY BAY AREA)
Hutch's Bicycles has a fleet of Intense, Specialized, Giant and Cannondale bicycles to suit your nee
AirportCarSite.
Expedition Motor Homes & 1st Choice RV
Los Angeles, California
Mellow Johnny's Bike Shop
Austin, Texas
Marry Me Classic Cars
Scottsdale, Arizona
We offer a large selection of Class A and C motor homes both gas and Diesel Pushers.
Mellow Johnny's Bike Shop. Mon through Fri 7-7, Saturday 7-6, Sunday 8-5 Free Parking in the back.
Marry Me Classic Cars is simply the finest specialized Classic Wedding Car Service in the country
Sand Highway RV Rentals
Sun City, Arizona
Patriot Tours & Provisions
Yorktown, Virginia
Elegant Knights Limo-Party Bus
Mobile, Alabama
RV Rental company in Phoenix offering pristine units that are loaded with amenities.
Segway PT Tours daily in Historic Yorktown and at the Kingsmill Resort and New Quarter Park in Willi
We have incredible savings on Party Bus Rentals. Also, great finds on Last Minute Specials
Dream Catcher Outdoor Recreational Rentals
Springfield, Oregon
Boats & Bikes
Howard, Pennsylvania
fresno taxi service
fresno, California
Tent Trailer and ATV rentals for the Eugene and Springfield Oregon Area! Our trailers are fully stoc
Located at Bald Eagle State Park, Boats & Bikes provides a wide variety of boat rentals, bike rental
Limousine Services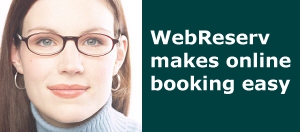 Get Listed!
Get your business listed on WebReserv.com, the best online booking system, and you can start accepting online bookings right away without having to buy new software or hardware.
Everything you need can be handled on WebReserv.com, from setting up your products and rates to managing the bookings - and best of all, you can start using it right away.
Advertisement