Your online booking system
Welcome to WebReserv.com, your online booking system. On WebReserv.com you can search for local businesses and products, view pricing and availability details and make reservations. It's like Yellow Pages with online booking.
Featured Listings
Hotels
Campgrounds
Vacation Rentals
Keller Hotels Newport Beach
Irvine, California
Molas Lake Park and Campground
Silverton, Colorado
Namaste - Perfect Summer Beach Rental
Santa Rosa Beach, Florida
The long-term comfort of a furnished residence with the style and service of an intimate hotel when
Molas Lake Campground (Rated "Most Scenic Campground in Colorado" - by AAA) provides visitors with u
Beautiful vacation rental in Santa Rosa Beach, Florida. Close to the beach!
Cypress Creek Cottages
Wimberley, Texas
Long Ridge Campground, LLC
Hiawassee, Georgia
Elk Ridge 426
Breckenridge, Colorado
The Cypress Creek Cottages offer a home away from home experience that's quiet and serene yet close
Long Ridge Campground maintainins a true "Spirit of the Mountains" environment.
The best 5 bed townhome in Breckenridge and great location.
Christopher Creek Lodge
Payson, Arizona
Camp Pollock
Sacramento, California
Northern Michigan Retreat
Mesick, Michigan
Christopher Creek Lodge, Est. 1950. "Had a rough day...or a rough week...Get away from it all...
Open to the general public, Camp Pollock is available for group camping along the American River, ne
The Northern Michigan Retreat is a 4-bedroom cottage in the Manistee Forest between Cadillac and Tra
59er Diner & Cabins
Leavenworth, Washington
Upper James River Camping Network
Buchanan, Virginia
Lazy Trout Motel & Cabin Rentals
Greer, Arizona
Call us to reserve the super special $20 per person rate when you buy your Stevens Pass or Mission R
Twin River Outfitters manages 3 river based campgrounds on the Upper James River.
Motel located in the small community of Greer Arizona located in the White Mountains of Arizona.
RV Rentals
Guided Tours
Boat Tours
RentForFun National LLC
Nampa, Idaho
Durango Rivertrippers & Adventure Tours
Durango, Colorado
Linda Bean's Wyeths by Water Boat Tours
Port Clyde, Maine
Rent For Fun.com specializes in renting RV's Boats, and ATV's located all over the United States
For over 30+ years, Durango Rivertrippers & Adventure Tours has maintained an untarnished safety rec
Wyeths by Water features art tours aboard an authentic Maine Lobster boat.
Tango RV Rentals
Salinas (Monterey county), California
Cornerstone Ranch
Princeton, Massachusetts
Duffy of San Diego
San Diego, California
RV FOR RENT 2013 CLASS A IN SALINAS (MONTEREY BAY AREA)
Cornerstone Ranch offers guided trail rides.
San Diego and Mission Bay's Premier Duffy Electric Boat Rental and Charter Company
Southern Cruzin RV Rentals, LLC
Northport, Alabama
Seattle Bicycle Tours
Seattle, Washington
Newport Harbor Boat Rentals
Newport Beach, California
RV Rentals, Class A & Class C Motorhome Rentals, Travel Trailer Rentals. Located in Northport, AL.
Seattle Bicycle Tours is a great way to explore the Emerald City.
Duffy electric boat rentals for cruising/sightseeing in beautiful Newport Harbor and 14' bay boat re
Mid Oregon RV Rental
Bend, Oregon
Pedal... or Not ELECTRIC Bicycle Tours
Santa Monica, California
Young Harris Water Sports on Lake Oconee
Greensboro, Georgia
RV rentals convenient for a family vacation or weekend getaway.
Semi-private electric bicycle tours of Santa Monica and Venice, California including the not often s
World class Jet ski, ski boat, wake boat & tritoon rentals!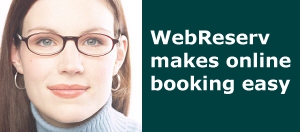 Get Listed!
Get your business listed on WebReserv.com, the best online booking system, and you can start accepting online bookings right away without having to buy new software or hardware.
Everything you need can be handled on WebReserv.com, from setting up your products and rates to managing the bookings - and best of all, you can start using it right away.
Advertisement