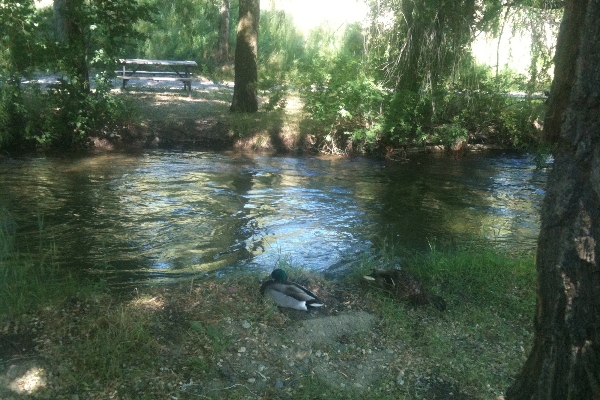 About Dutch's Campground
Located about 500 yds North of Kalamalka Lake along Vernon Creek, Dutch's has over 100 camping sites along Vernon Creek shaded with mature trees and home to countless ducks, a few owls, the occasional marmot or beaver and once in a while some deer come by to say hi. There is a golf course just to the north of us, and downtown Vernon is a 10 minute drive, or the bus goes by on a regular schedule.

Kalamalka Lake known as "The Lake of Many Colours" is one of the most beautiful lakes in the country. It is also a home to many great beaches. Kal beach (we are within walking distance of Kal Beach) and Cosens Bay Beach, which lies right in the heart of Kalamalka Lake Provincial Park, are two of the popular beaches developed on the shores of the lake. Some of the other beaches on this lake are Jade Bay Beach, Juniper Bay Beach, Kekuli Bay Beach, Kirkland Park Beach, and on the south end, Kaloya Regional Park Beach.

We are a family campground and are pet friendly. Of course we ask your pets be well behaved, leashed and you pick up after them.

We have a coin operated laundry and showers, There is WiFi, cable for some sites, a 9 hole mini golf, a small tot playground and a small camp store on site.
BBQ's, propane fire pits and briquettes are welcome, but please be aware that due to municipal bylaws we cannot have wood fires.