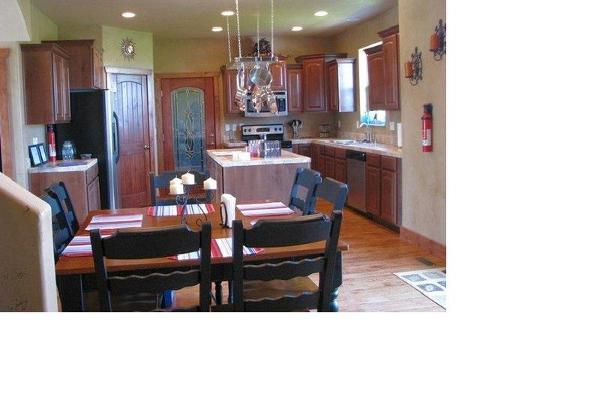 About The Chalet @ Snow Meadows
Welcome, to one of Bear Lake, Utah's, luxury vacation home rentals, The Chalet @ Snow Meadows. The Chalet is one of a group of 5-star vacation rental properties known as The Lodgings @ Snow Meadows. If you are looking for Garden City, Utah, lodgings, we invite you to look around our website and discover all we have to offer.The Chalet is a Nightly/Weekly furnished 3535 sq. ft. vacation rental property with 7 bedrooms and 4 1/2 bathrooms and is licensed to sleep 24 with children under 3 not included in the count.

But that is not all! Each of our bedrooms and baths are decorated with a theme, and the Spa Room has a huge Hot Tub that can seat 7-8 with room to spare. There is also a fabulous kitchen supplied with most everything you will need, a casual dining room with a fireplace, a theater/game room, and a paver patio with steps and walls around a raised firepit. These are only some of the features that set The Chalet apart from most of the Garden City, Utah, lodgings. In fact, we encourage our guests to visit other luxury vacation homes in and around Garden City. There are many luxury vacation rental properties available, but we are confident that you will choose to stay with us because of the little extra touches and service we provide.

We invite you to check out all that this "Mini Resort" has to offer. Be sure and check out any specials we are currently running.