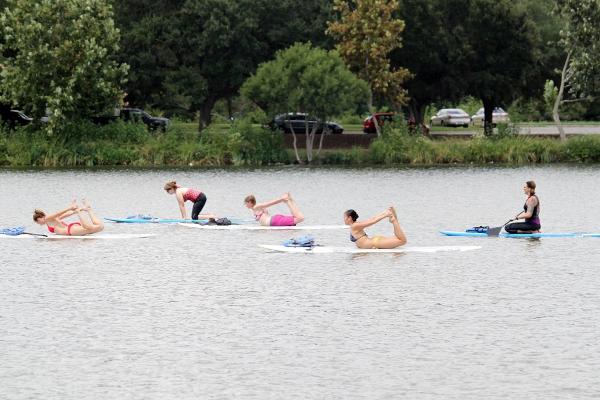 About Paddle Zen
Paddle Yoga is a fun workout and an amazing way to stretch, relax and meditate by taking your yoga practice to the water. If you are looking to get outdoors with your practice, then Paddle Yoga is a perfect way to do it. Nature replaces your studio, the board becomes your platform and the deck pad becomes your mat. Both beginner and advanced yogis can enjoy doing yoga on a paddle board and your workout can be as mellow or as challenging as you want it to be. Classes are 60 minutes and begin with a gentle warm up on land before getting on the water. No prior experience on a stand up paddle board is required and all equipment is provided. The cost is $30 per session, cash or credit/debit card accepted. Come see why this is different from any other yoga class! Class size is limited so reservations are required.


Cancellation Policy
A credit card number is required to secure your reservation. Missed appointments and late arrivals will be charged in full to the credit card number in which they were reserved. If weather or other circumstances force us to close/cancel activity during the time you have reserved, you will be given credit for a future Paddle Yoga class, equal to that which was purchased. No refunds will be given.


Class Schedule:
Saturday and Sunday at 10am, beginning May 3 through September 28, 2014. We do offer private group sessions throughout the year, so please send us an email if you'd like to schedule a Paddle Yoga class for a minimum of 4 people.