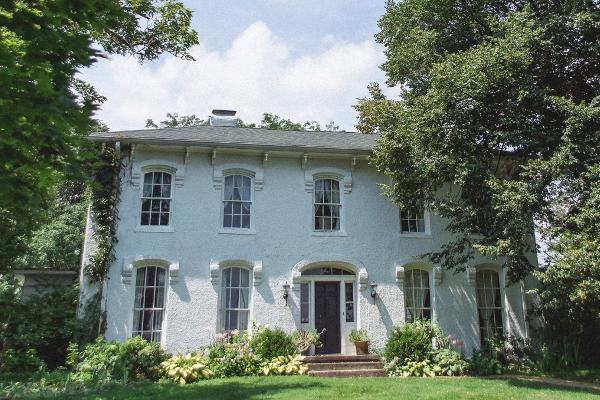 About Orchard House Bed and Breakfast
Situated on 12 beautiful acres of farmland just outside the historic and picturesque Village of Granville, Orchard House Bed and Breakfast blends timeless farm style with the modern comforts of today. Our decor features antiques and modern artwork from throughout the world. Our gourmet breakfasts are locally sourced and highlight products from central Ohio farms and businesses. Whether you decide to walk the grounds, petting goats and collecting chicken eggs, or explore the local downtown or countryside, Orchard House is prepared to make your stay as relaxing as possible.

Originally built in the 1850's, Orchard House Bed and Breakfast is located on 12 acres in Granville, Ohio and has been home to local prominent members of the Granville community. In the 1950s, it was the first licensed home for alcoholics in Ohio, the John Daley Home. Saved from demolition in 1969, the house was restored as a family home. The former Granville Manor Bed and Breakfast operated on the site in the 1990's. After passing between several owners over the last decade, Orchard House is again a bed and breakfast, offering an atmosphere cognizant of its long history with all the modern comforts expected of superior lodging.

Orchard House's farm offer guests the opportunity to interact with our resident animals, including goats, a llama, sheep, pot bellied pigs, and numerous poultry that roam freely from pasture to pasture. We offer a special package that allows for guests to lend a helping hand on the farm, experiencing all aspects of animal care. White-tailed deer and other wildlife indigenous to Ohio continue to walk the land, from the Pine Forest to our orchard. Living in harmony with our natural surroundings, as the sun sets, sip a glass of wine and enjoy the beauty that unfolds before your eyes.

Whether to escape the city for a weekend in the country or to visit or spend time with someone you love, Dean and Jodi welcome you to our farm to enjoy some country relaxation in sophisticated style.