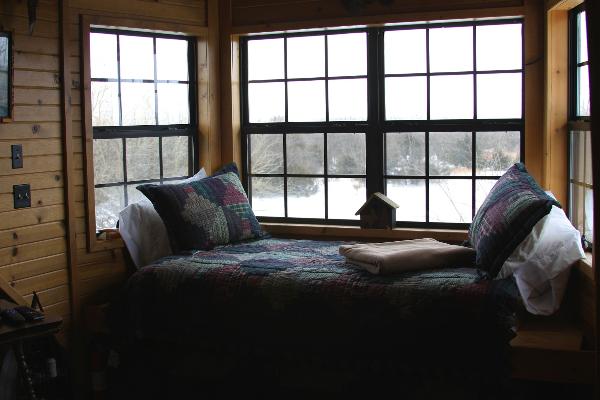 About Murphy's Landing
Nestled in Southeast Kansas, this rustic cabin is perfect for weekend refuge, a family vacation, a guys-only hunting outing, or romantic stay you will never forget! Offering up 2000+ sq. ft. tucked away in 80 acres of woods and prairie, this escape retreat has all the luxuries of a five star hotel without all the bustle of the city. After a scenic drive, you'll arrive at the secluded, enchanting property, surrounded by prime hunting acres and a glistening pond with fishing. Rick Murphy used the timbers his father had collected years ago from his desire to build a cabin himself. Rocks from Portia's family farm near Kincaid, KS completed their desire to involve the entire family in the building of the cabin.



Amenities:

Full kitchen
Feather top beds
Jacuzzi Tub + shower
Fireplace
WiFi
Dishes/cookware
Washer/dryer
Satellite T.V. / DVD player
Small paddle boat

Just two miles south of the Landing is Murphy's Mercantile & Cafe - complete with groceries and home-style meals. Right next door to the Cafe is our brand-new antique shop: Bittersweet Antiques, come browse our ever-changing selection of antiques and unique gift items!

Complimentary breakfast at Murphy's Cafe is included for each member staying at the cabin.