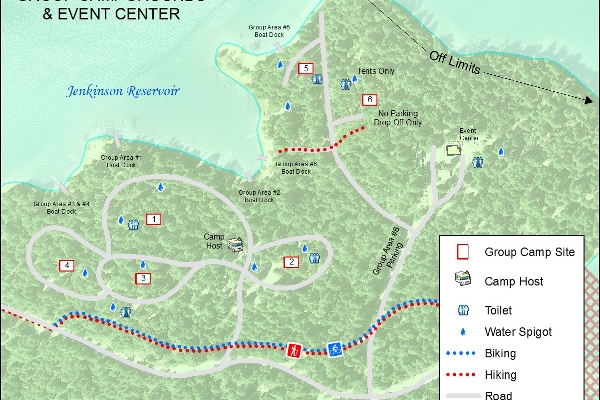 About SLY PARK RECREATION AREA
During the summer months Tours of the Event Center and Group areas are only offered on Monday nights at 6:00 pm. Tours begin at the Group Area 6 parking lot. Please call for availability.

Group Area #5 site can accommodate up to 50 people and 20 vehicles (up to 5 can be RV's). The first 50 people are included with your reservation; any additional people will be charged a $4.00 fee per person, per day. Site amenities: Picnic tables, 18" x 60" charcoal barbecue, group fire ring, direct lake access with dock.

Located on the south side of Jenkinson Lake. Group areas have barbecues, fire rings, tables, vault toilets, horseshoe pits, and water spigots. There are no hook-ups or pads in any areas. All fees due at time of booking. A two (2) night minimum reservation is required for weekends, 3 nights on Holiday weekends.

Please note: Group Area reservations for 2019 will be changing to the same 14 months in advance as all other campsites.

Cancellations or date of arrival changes are allowed up to 14 days prior to arrival date. Reservation change fee is $20 and cancellation fee is $50. Reservation booking and change fees are non-refundable.

Vehicle Operation must be confined to designated roads. The speed limit in the campground is 5 miles per hour. No one may ride in the back of a truck or pick-up without seatbelts. No one may ride in a boat being towed.

Check IN is at 2:00 PM, Check OUT is at NOON.

WHY NO DOGS IN THE WATER - Jenkinson Lake is a drinking water reservoir and falls under the State of California legislative exemption that allows us to have people and boats in the lake. This same legislation requires no domestic animals in the water, as well as no diapers.