Your online booking system
Welcome to WebReserv.com, your online booking system. On WebReserv.com you can search for local businesses and products, view pricing and availability details and make reservations. It's like Yellow Pages with online booking.
Featured Listings
Log Cabins / Treehouses
Hotels
Vacation Rentals
Cabins on Indian Creek
Carbondale, Illinois
Christopher Creek Lodge
Payson, Arizona
Namaste - Perfect Summer Beach Rental
Santa Rosa Beach, Florida
CABINS ON INDIAN CREEK combine rustic style with modern amenities including full kitchens, open layo
Christopher Creek Lodge, Est. 1950. "Had a rough day...or a rough week...Get away from it all...
Beautiful vacation rental in Santa Rosa Beach, Florida. Close to the beach!
Nickels Vacation Cabins
Nashville, Indiana
Green Valley Motor Lodge
Nashville, Indiana
Lazy Trout Motel & Cabin Rentals
Greer, Arizona
Real log cabins nestled on 250 wooded acres in beautiful Brown County, Indiana.
Green Valley Motor Lodge is a small, two-story 30 room motel located in beautiful Brown County, Indi
Motel located in the small community of Greer Arizona located in the White Mountains of Arizona.
Lazy Trout Motel & Cabin Rentals
Greer, Arizona
Cypress Creek Cottages
Wimberley, Texas
Sedona Wild Horse Mesa
Sedona, Arizona
Motel located in the small community of Greer Arizona located in the White Mountains of Arizona.
The Cypress Creek Cottages offer a home away from home experience that's quiet and serene yet close
Spacious luxury estate with scenic red rock views in Sedona, Arizona.
Bullfrog Mountain Cabin Rentals
Butler, Ohio
La Plaza Inn
Walsenburg , Colorado
Weaver's Rest Cottage
Berea, Kentucky
Two cozy cabins in the woods in the heart of the Ohio valley near Mohican State Park, Malabar Farm a
La Plaza Inn is an elegantly restored historic hotel serving the community of Walsenburg for over 10
Located in the heart of Berea, KY Weaver's Rest is just 3 miles off of I-75 and within walking dist
Boat Rentals
Guided Tours
Recreation & Sports
Party Boat Austin
Austin, Texas
Rogue Valley ZipLine Adventure LLC
Central Point, Oregon
Frying Pan Tower, LLC
Charlotte , North Carolina
Party Boat Austin is your premier party boat rental company for Lake Austin! Get a group of friends
Come join us at the Rogue Valley's most exciting adventure yet!! Soar through over 2,700 feet of Zip
The Frying Pan Tower is a Coast Guard Light Station B&B located 34 miles off the coast of N.C.
Young Harris Water Sports on Lake Oconee
Greensboro, Georgia
T.A.S. Lodging
Fort Payne, Alabama
Balboa Water Sports
Newport Beach, California
World class Jet ski, ski boat, wake boat & tritoon rentals!
Vacation getaways at Little River Canyon near Mentone and Fort Payne.
Balboa Water Sports is the most convenient and thrilling place to rent Sea Doos and Stand Up Paddle
Driftwood RV Park and Fishing Resort
Los Molinos, California
Sinister Stories of Salem
Salem, Massachusetts
Liquid Hawaii
Kailua-Kona, Hawaii
If you're looking for a camping destination that combines natural beauty, outdoor recreation and the
Sinister Stories of Salem is a unique 90 minute walking tour that takes you through downtown Salem,
Dolphin Swim/Snorkel, Manta Ray Night Snorkeling, Reef Snorkeling, Whale Watching, Private Ocean Cha
Sunset Watersports - Bayshore Resort
Traverse City, Michigan
Paddle Moab
Moab, Utah
Newport Beach Boat Rentals
Newport Beach, California
Sunset Watersports is your #1 source for ski boats, jet skis and pontoon boat rentals in the Travers
River SUP'ing is gaining increasing popularity in river communities like Moab where there are beauti
Home to Newport's largest & most diversied boat rental fleet.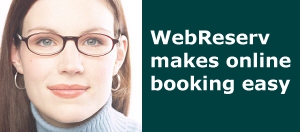 Get Listed!
Get your business listed on WebReserv.com, the best online booking system, and you can start accepting online bookings right away without having to buy new software or hardware.
Everything you need can be handled on WebReserv.com, from setting up your products and rates to managing the bookings - and best of all, you can start using it right away.
Advertisement